Return
Piedmont Physicians Medical Oncology Fayetteville
1267 Highway 54 West, Suite 3100, Suite 3100, Fayetteville, GA 30214
Monday - Friday
8:00 AM to 5:00 PM
Specialized Cancer Care, Close to Home
At Piedmont Physicians Medical Oncology Fayetteville our clinical and support team has more than 50 years combined experience in the diagnosis and treatment of primary and metastatic cancer. In addition to providing comprehensive medical care, our dedicated, collaborative team of experts supports patients' mental, emotional and family needs.
Services Offered
Support services including social work and nutrition
On-site infusion center and radiation therapy
On-site support services including social work and nutrition
Wellness program for patients, survivors, and caregivers
Nurse navigators, to guide patients and physicians through the scheduling process
Clinically integrated care
Advanced diagnoses
Education and counseling
Genetic testing
Multidisciplinary tumor boards
Second opinion visits
Targeted therapies
Translation services
Meet our Staff
Damien Hansra, MD
Hematology Oncology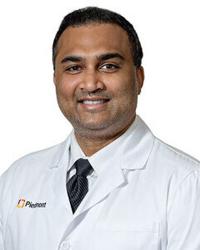 About
Damien Hansra, M.D., earned his medical degree from University of Miami and completed his residency and fellowship at University of Miami - Jackson Memorial Hospital. He is board certified in Hematology, Medical Oncology and Internal Medicine. He has been practicing medicine for over 13 years. Prior to joining Piedmont, Dr. Hansra was at the Cancer Treatment Centers of America. He specializes in Hematology and Medical Oncology and has a special interest in Wellness and Obesity.

Read his article in the Atlanta Journal-Constitution, "Are you at risk for breast cancer? Risk factors, screenings, symptoms and treatments to know." ???????

In his spare time, he enjoys spending time with family, exercising (running, biking, walking dogs), cooking, travel.

Dr. Hansra is accepting new patients and welcomes most major insurance plans.
Map & Directions
Piedmont Physicians Medical Oncology Fayetteville
1267 Highway 54 West, Suite 3100, Suite 3100, Fayetteville, GA 30214
25 miles
Monday - Friday
8:00 AM to 5:00 PM