Return
Piedmont Physicians of Ola Internal Medicine
3459 Highway 81, McDonough, GA 30252
Monday - Friday
8:00 AM to 5:00 PM
New Patient Visits

Virtual Visits
Online Booking
Primary Care - Where the Primary Focus Is You
Piedmont Physicians of Ola Internal Medicine believes prevention is the best medicine. That's why we specialize in primary care to help you achieve - and maintain - better health.
Video Visits
Video visits are one more option we offer you for seamless, safe access to the exceptional care you've come to expect from us. If you have a minor illness or other health concern, you can receive a diagnosis, treatment plan, and prescriptions (if necessary) by a Piedmont provider in real time. And it's so convenient—you log in to our virtual waiting room to talk to a provider from your home, car, office, or wherever you are.
Services Offered
Primary Care Services for Ages 15 and Up
Well and Sick Visits
Annual Exams
Sports Physicals
Vaccinations
Women's Health and Wellness
Management of Diabetes, Heart Disease, Hypertension, Arthritis and COPD
Occupational Health Services
Easy Online Scheduling
Meet our Staff
Denise Cheryl De Veranez, MD
Internal Medicine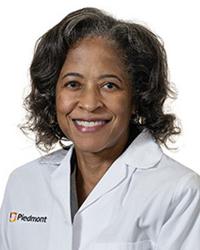 About
Dr. Denise Cheryl De Veranez is board-certified by the American Board of Internal Medicine and typically sees adult and geriatric aged patients. She believes prevention is the best medicine and that's why she specializes in internal and geriatric medicine to help her patients achieve - and maintain - better health. She offers comprehensive preventative care while treating the elderly population and improving their quality of life. Dr. De Verananez accepts new patients and most insurance plans.
New Patient Visits

Virtual Visits
Map & Directions
Piedmont Physicians of Ola Internal Medicine
3459 Highway 81, McDonough, GA 30252
33.4 miles
Monday - Friday
8:00 AM to 5:00 PM