Return
Abdulhameed Aziz, MD
Vascular Surgery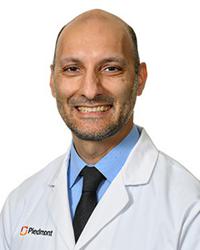 See Reviews
Abdulhameed Aziz, MD
Piedmont Heart Vascular Surgeons and Vein Care
95 Collier Road Northwest, Suite 2045
Atlanta, GA 30309
Abdulhameed Aziz, MD, FACS, earned his medical degree and graduated AOA from the University of Pittsburgh School of Medicine. He completed his residency in General Surgery and fellowship in Vascular Surgery at Washington University in St. Louis, Missouri. He has also completed research fellowships in cardiovascular surgery at Washington University in St. Louis and cardiovascular science at the National Institutes of Health in Bethesda, MD. He received his undergraduate degree in Pre-medicine (B.S.) from the
Pennsylvania State University graduating magna cum laude. Dr. Aziz is board certified in General Surgery and Vascular Surgery.

Immediately prior to joining Piedmont, Dr. Aziz practiced for ten years in Michigan, where he held roles including Site Medical Director of Vascular and Endovascular surgery at Trinity Health IHA in Ann Arbor and Vascular Surgery Quality Head for Trinity Health Ann Arbor.

Dr. Aziz has clinical interests in vascular and endovascular surgery, thoracic outlet syndrome, abdominal and thoracoabdominal aneurysm disease, spine exposure, carotid, brachiocephalic and upper extremity arterial disease, aortic reconstruction of aortoiliac disease, peripheral and mesenteric occlusive/aneurysmal disease, hemodialysis access and venous disease.

In his spare time, Dr. Aziz likes to read biographies, run, work on his hobby car, and spend time with his wife and 4 children.
Specialties
Vascular Surgery
Gender
Male
Languages
English
Education
University of Pittsburgh School of Medicine
Medical School, Medical Education, 2005
University of Washington School of Medicine
Residency, General Surgery, 2012
University of Washington School of Medicine
Fellowship, Vascular Surgery, 2013
Certifications
American Board of Surgery
The following ratings and reviews are based on verified feedback collected from independently administered patient experience surveys. The ratings and comments submitted by patients reflect their own views and opinions. Identities are withheld to ensure confidentiality and privacy.
Map and Directions
Piedmont Heart Vascular Surgeons and Vein Care
95 Collier Road Northwest, Suite 2045
Atlanta, GA 30309
1.07 Miles
Monday - Friday
8:00 AM to 4:30 PM